EQUITANA 1991
(Essen, Germany )

CALIFORNIAN STOCK SADDLE
This full carved saddle was prepared in Australia and then assembled as part of the saddle making demonstration that I performed for the Cordwainers College (London) at Equitana 1991 in Essen, Germany.
This saddle was also exhibited at the Victoria & Albert Museum (London) as part of an anual exhibition by the students of the Cordwainers College.
---
CALIFORNIAN STOCK SADDLE
Full carved floral pattern
Center-fire, Spanish Ring rigging
8 string/buttons (seperate front jockey )
Rawhide bound horn and cantle
3" x 3" dally roping horn
41/2" high cantle
Full length stirrup leathers
Brass bound, deep roper stirrups
Hand made horse hair cinch
All bronze fittings
Tree made by Warren Wright (NZ)


---
All saddles with the brand have:

Sheepskin linings
Quality rawhide covered trees
4 Guage copper rivets used in riggings
All screws are bronze (boat builder's quality) to avoid corrosion
---
Look for this logo!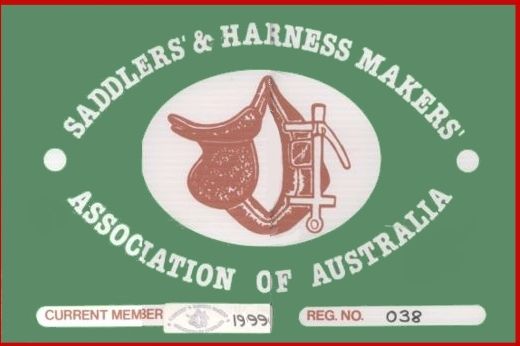 I recomend members of The Saddlers and Harness Makers Association of Australia for all your quality saddlery supplies and repairs