---
TRAINING SADDLE

Solid timber tree, covered with fibre glass
Sheep skin seat
21/2" leather stirrup leathers, leather fenders
Flat plate leather rigging (double thickness)
Tall horn (shown) for training cutting horses
Typical cutting or reining style fork, 3" cantle
Metal oxbow stirrups

Can also be made with nylon webbing stirrup leathers without fenders and a variety of horn styles

The beauty of these saddles is that if they get busted up they can be easily repaired with fibre-glass.

The solid timber tree inside the fibre-glass, means that the rigging can be screwed anywhere to the tree and it will "hold". Unlike the fibre-glass shell type training saddles in which the screws holding the rigging tend to strip the threads because the screws are only threaded into the fibre-glass shell.
Another advantage of having a solid timber tree inside a fibre-glass covering, verses the fibre-glass shell type trees is that I do not have to have moulds made for every size and style of training saddle tree and I can easily adjust the shape of a timber tree fit any particular horse, before the tree is covered with fibre-glass

---
Look for this logo!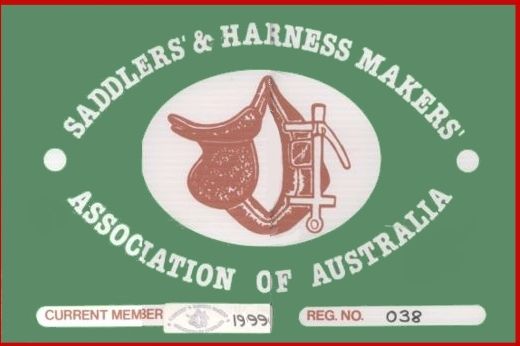 I recommend members of The Saddlers and Harness Makers Association of Australia for all your quality saddlery supplies and repairs